Wow, you're f…… hot!!
I can't remember if any version of those words, or a whistle, has ever generated a successful hookup. Ever. Neither have I ever felt objectified, afraid, insulted or appropriated by anyone calling me out on the street. Political correctness disclaimer: I am not condoning or advocating any behavior that is threatening, or is not consensual. And while unsolicited 'catcalling' can be perceived as threatening and non-consensual, may I suggest a wider view?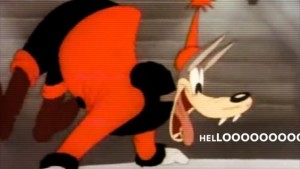 Righteous indignation flying through Facebook inspires me to add imy own version to what is beginning to feel like a very tired conversation on catcalling.
I've been doing a bit of research. The Oxford dictionary states the origins of cat-calling from the mid 17th century, denoting a kind of whistle or squeaking instrument used to express disapproval at a theater. Merriam Webster defines it as a vocal sound made to express scorn or disapproval. The Urban Dictionary says "when a guy gives the 'wert whirl' whistle or yells for the purpose of getting attention or hopes of a future hookup. Adding, 'this is done out of the window of a car. Typically a Pontiac Firebird or Camaro. 99.9% of the time, a hookup never arises." My research also unearthed memories of old cartoons. Wolf whistles from actual wolves at salacious Bettie Boop like characters; eyeballs popping out of pig heads as Porky spies a darling she piglet.
Catcalling, as defined by Webster and Oxford would refer to jeering aloud at really bad theater, except not in Portland, Oregon where audiences are so polite that no matter what we see, a standing ovation is offered. Or any sports event at which the favored player or team is unsuccessful at whatever play we hope will give our favored side an advantage. I have yet to see any general public outrage at what appears to be expected, yet intensely juvenile behavior.
But theater and sports are not what we're talking about.
We're talking about Porky Pig and the Big Bad Wolf. And we're talking about a lot, lot more.
As a woman of a particular age, I find myself becoming more and more invisible. It now rarely happens; and while I still feel, and am told, I am an attractive woman, there is a poignancy to the absence of catcalls that those of you who are now offended or insulted have yet to experience.
What I have found in myself, and in working with men and women for over 20 years, is a deep longing of men to adore the feminine contrasting sharply with most women's deep rejection of their bodies and their desire. Men have been shamed for any longing, and women have felt shamed for being the object of that longing, particularly any erotic longing (and this is not to diminish the reality of sexual assault and cruelty to women throughout history; that's not the subject here). In this country, historically, we relegated that longing to seedy parts of town, strip clubs, sex workers, the magazine your dad was hiding, to present time, an even more anonymous, massive portal. Statistically, most children now have learned about sex and it's version of desire by age 11, and that is via their phones, i.e. easily accessible pornography, of which young men AND women participate in. I won't even begin to get into the misinformation and confusion created by porn. Change can only happen in a more systemic way through open-hearted discourse about desire. Meeting a catcall with 'fuck off' feeds anger, shame and a deeper repression of the desire that lives in each of us.
Whenever I was spoken to, whether from someone who was highly unskilled, or someone I would consider to date (that's always different, isn't it, if it's someone I think is hot) I would soften my heart, and say "Thank you", realizing that at one reality, someone had felt 'something' by seeing me. A sense of excitement, freedom, love, loneliness, longing, a desire to connect. Who knows? That acknowledgement supported my own self-confidence, and that confidence enabled me to walk through my life without fear of assault. It was as if my acknowledgement of desire softened their edge of longing.
We can be angry at men, yet I maintain this is misplaced rage. As long as a music industry is supported that continuously objectifies women's bodies, as long as we are unconscious consumers in a society that markets everything to us with the often overt promise that if we we just bought this car, this dish soap, this brand, we would be perceived as 'hot' that we would be loved, that we would find happiness, we will continue to be surprised and enraged when this constant promise of desire unfulfilled spills out into the street.
I want to leave you with a powerful piece by spoken word poet, muslim Madhia Bhatti
http://www.groundswell-mvmt.org/faithshare/listen-up-jay-z-this-muslim-womans-got-something-to-say-to-you/#